Current Rural Home Market Conditions in the Greater Golden Horseshoe.
How bad is it really?
Most of us have been paying close attention to the current market conditions. Whether you are in the industry, actively in the market, or not, it is easy to see things have slowed down, especially when compared to this time last year. 
We've pulled some numbers to give everyone an idea of what is happening with rural real estate market prices. 
Fall is a time of year many expect there to be more activity in the market. If you've heard someone say "Oh… we are waiting for the fall market to list" – the last couple of months is the time they are referring to. 
But this year, we didn't really have a "fall" market. Things have stayed quiet for the most part. 
Any hopes of November being a better month for sellers were dashed by the BOC's October 26th announcement of the another increase in interest rates.  
Here are some basic statistics for you for AUGUST to OCTOBER 2022:
Average Sales Prices
We see about a 7% difference in sales prices this year compared to the same period from last year. Prices for rural properties have come down but not by a drastic amount. 
List to Sales Price Ratio
The list to sales price ratio evidently show that properties are no longer selling for over list and buyers are now able to purchase a property, on average, for under the asking price. 
Day on Market
Days on market indicate properties are taking longer to sell than they were in 2021. I think we can all agree we have become accustomed to quick list and sale cycles – with properties selling on offer date in a week, some even within a few hours of being listed. 
Months of Inventory
To give us some insight into the demand and supply balance, we like to look at months of inventory. This is the number of months it would take to sell the currently active listings if no other listings were to come up. A balanced real estate market would show around 6 months of inventory.  Right now we are seeing approximately 4.4 months of inventory in rural homes which is up from this time last year. This is unsurprising given that demand appears to be much less than it was in October of 2021. 
We also think it is important to look at what the stats are saying for properties still listed.
Here are the numbers for currently listed properties:

The current average list price is higher than what the predominate amount of listings are selling for. 
This doesn't mean that if you have a property listed at $2M it is now worth $1.3M.
What the numbers indicate is that higher priced properties, on average, likely aren't selling as often as those listed closer to or under, the $1.3M price point. The days on market also show that these higher priced properties are staying on market longer than those listed closer to the average. 
The DOM is a good indicator for sellers that this is what they may want to expect in terms of the time it is going to take to sell their home in the current climate. 
The Current to Original List Price Ratio gives us an idea of the difference between what, on average, properties are listed for and shows that these prices, at least over the last few months, have come down from the original list price.  
Right now, we're in a strange economic time and it is being reflected quite strongly in our real estate market – rural and regular.
One of our favourite instagram accounts to follow for a good laugh is @TheBrokeAgent, and they said it perfectly: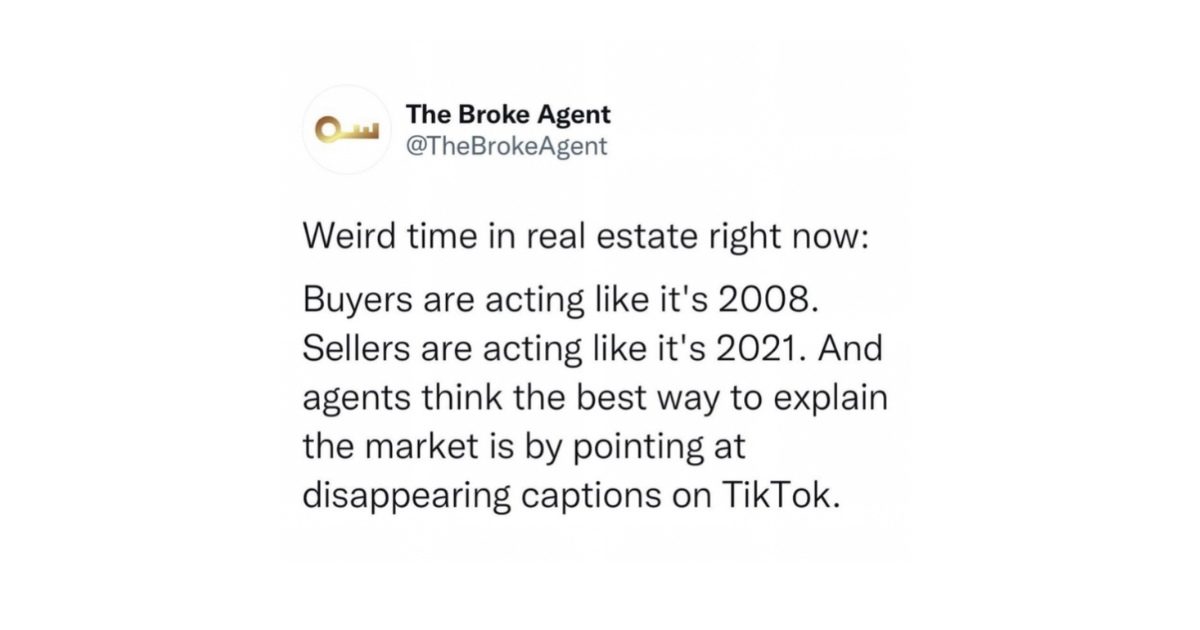 All jokes aside, it could be too soon to tell – definitively – what type of market we have. We can see that based on the current numbers the sellers market we had in 2021 is not as strong this year. Purchasers are able to negotiate down in their offers and put necessary contingencies in. Prices have started to come down, properties are sitting on the market for longer and we aren't seeing the chaos of competing offers that we had been seeing for the last 2+ years. 
Buyers are wary of rising interest rates and need time to adjust to the new rate while sellers with a prime property will likely wait for a better time to list.
We have heard from the BOC and our various mortgage brokers that we should expect another rate increase on December 7th. With a slow down in spending across the country, it is tough to say how long rates will stay at this level.
For more information on tackling today's real estate market and how interest rates are impacting the rural home market, be sure to check out our article on Tackling Today's Rural Real Estate Market and don't forget to sign up for our newsletter and be one of the first to read our report on the 2022 RURAL REAL ESTATE MARKET.